Moogahlin Masterclass | Intra-cultural performance workshop
This is an exciting local and global collaboration between Liza-Mare Syron from Moogahlin Performing Arts and Kristine Landon- Smith, Lecturer in Acting NIDA and Associate Artist Tamasha Theatre, one of Britain's leading companies. This is a workshop in intra-cultural practice for skilled and experienced artists from all cultural backgrounds.
30 MAY 2015 10AM–2PM CARRIAGEWORKS [FREE EVENT]
Applications close 20 April 2015
Send your interest statements and bios to: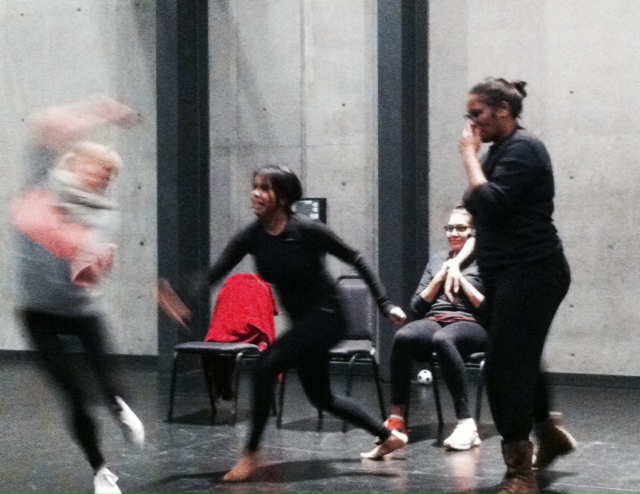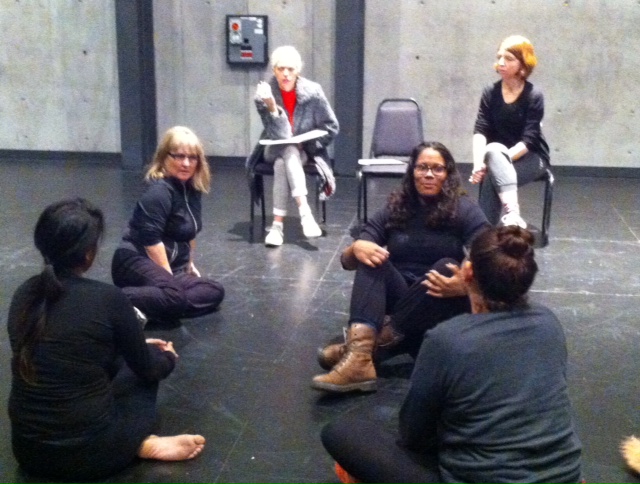 Masterclass Series Held in UK 20 January 2015.
Intracultural is a word coined by the academic and practitioner Rustom Bharucha and he coined this word for himself as a critical shorthand to differentiate intercultural relations across national boundaries, and the intracultural dynamics between and across specific communities and regions within the boundaries of a the nation state.
I align myself most closely to Bharucha but what was the key impetus for me to develop my own practice in the intracultural sphere?
Over time I have observed that actor training and rehearsal room practice often fails to recognise or engage with the cultural identity of the actor. This means that actors from diasporic heritage backgrounds are often asked to work within a culture and set of values that is not their own. In these instances, I have seen actors often without realising it hiding their true selves and therefore not being able to find the door to their unique creativity. In my own work I have witnessed that the artistic power of a performer so often resides in one's cultural context and I am currently writing a thesis for my masters which is predicated on research by practice creating a rehearsal praxis which enables the actor to utilise his or her cultural context in the process of creating character, in the form of text based realism and other applications. I believe it is only through truly embracing and working with the myriad of fluid and evolving cultural identities that we have in our rehearsal rooms, that we can hope to develop a theatre that is consistently representative of 21st century society. As practitioners if we do not understand how to work with the many different cultural backgrounds that make up our society, theatre is in danger of remaining elitist and discriminatory in its practices.
Bharucha says "to play with the uncertainty of the intracultural exchange" is what is required when working intraculturally. In my artistic practice I 'play with difference' in the rehearsal room, rather than ignore it. It is a multi lingual practice and I try not to install a 'standard' version of the dominant language as the norm, as this can have the tendency to marginalize 'variants' from that norm as impurities.
In employing this 'culture play' in my rehearsal room, I have witnessed actors finding it easy to explore improvisation and text work when working through their own cultural context, whether that is with a family language or accent or simply physiologically thinking as themselves as particular rather than neutral.
In my work with actors I have always taken a direct approach in relation to culture in performance. I aim to help actors make the bridge between their own identity and the world with which they are engaging. The cultural theorist Raymond Williams describes culture as "the deep personal meanings… the special processes of discovery and creative effort… the way in which people write themselves into the land." It is this "writing oneself into the land'" through personal meaning, discovery and creative effort that underpins my work with actors in performance. Each and every actor must feel free to share and explore his or her cultural context and deep meanings. It is only then that as artists can they truly fly.
Participant Feedback:
"It is absolutely different from any workshop I have participated in as there is a focus primarily on the artists as a person, which is so helpful."
"Absolutely loved Kristine's approach. It seems abundantly clear that the intracultural practice is crucial to our rehearsal process, not only when rehearsing for a play, but in classrooms, drama schools, other educational settings. Totally changes the culture of the room!"
"

This was an amazingly beautiful and useful approach, to be able to see the actual way of Kristine's work with the actors, not a description or simulation where we would work with her as the actors but her actual work. A priceless opportunity – thank you!"
"Kristine's workshop was utterly inspiring. She articulated and practiced what I've always known to be true but, until now, had been unable to express. I feel totally validated and can't wait to facilitate people being exactly who they are on stage."
Intracultural Actor Masterclass with NIDA via Video Link!
2013
Read below some of the comments below on our exciting experiment to see if we could lead an Intra-cultural Actor Masterclass with Kristine, students and observers from NIDA and the UK, all in a very high-tech space via Video Link:
"As an artist and researcher in intracultural artistic practice I find Kristine Landon-Smith's method of work inspiring and seminal within the theatre field."
"I wanted to revisit things covered in the actors' workshops I took with Kris in 2012. Observing the session, as opposed to participating in it, allowed me to write down the warm up exercises and the process. Seeing the actors work made it easier to detect patterns of intracultural acting and what processes were similar to all the actors when approaching their texts with Kris' guidance. Watching Kristine's way with actors as she incorporates cultural and linguistic backgrounds in the work process in today's multicultural environment is something I feel strongly about and I learn a lot from it (as an actor but also as a director). I was there as an observer and the time went by very quickly, the experience was very rich and watching only allows you to be more analytical without the pressure to "perform". Observing only was a highlight for me as I was free to take notes and not worry about "lines" or "performing" in any other way. Using modern technology to work on a piece despite time and space constraints was very interesting and I felt very inspired upon leaving the masterclass, Kristine is a great teacher live or on screen. Always a pleasure to be involved with Tamasha, I have a great respect for the work the company does and the opportunities it provides. It is a rare thing in the industry in this day and age."
"It was incredible watching the actors in London engaging in an intense scene with the actors in Australia!!! Via webcam. Unbelievable. Theatre is often such a specific experience that only the actors and audience in that room feel. But the actors in Australia and London were able to create this tension and relationship virtually. It's difficult to put into words but it felt almost magical when the scenes between the actors were alive and true. I had been to a workshop with Kristine before, as an actor, and loved it. I was, of course, too absorbed in the experience to fully acknowledge the techniques she was using on the actors and how they responded and were affected by her suggestions. As a just starting theatre-maker myself, I want to see as many different methods so I can use them in my future work. I also found Kristine's method exceptional – so really wanted to be able to use it in my own work."
Headphone Verbatim Masterclass 2011
Kristine Landon-Smith giving a verbatim theatre masterclass with 3rd Year BA students at the National Institute of Dramatic Art, Sydney Australia, 27th October 2011
Using, not ignoring, the cultural background of the performer
2009
My first port of call in the creation of any work is the actor, not the text. I work with the actor until he or she is confident and ready to "play" - it is my belief that they can then go anywhere. It is only when they are in this open state can they then start work on the text, be it a contemporary play, Chekhov or Shakespeare.
I consider it to be my job as director to get the actor to that place. I work with each actor's individual spirit, embracing their cultural context. This masterclass looks specifically at this area: the cultural context of the performer and how it impacts on the work created in the rehearsal room.
The transcript contains twelve audio clips from the workshop. Use the links in the document to listen to the clips or click on the links below.
This is a transcript of a masterclass I held in October 2009 at the National Institute of Dramatic Art in Sydney, where I directed a student production of East is East. The masterclass demonstrates chapter one of a practice that I have been developing over many years.
Kristine Landon-Smith
The transcript contains twelve audio clips from the workshop. Use the links in the document to listen to the clips or click on the links below.
Playing with cultures
Watch Kristine talking to a group at the Central School of Speech and Drama in London about her practice